Parkland Estates Airpark is a private airpark, open to residents and invited guests. The Parkland Hold Harmless Agreement must be completed for visiting aircraft using Parkland Estates' runway and facilities. A copy of the signed Hold Harmless agreement must be provided to the BOD to be kept on file.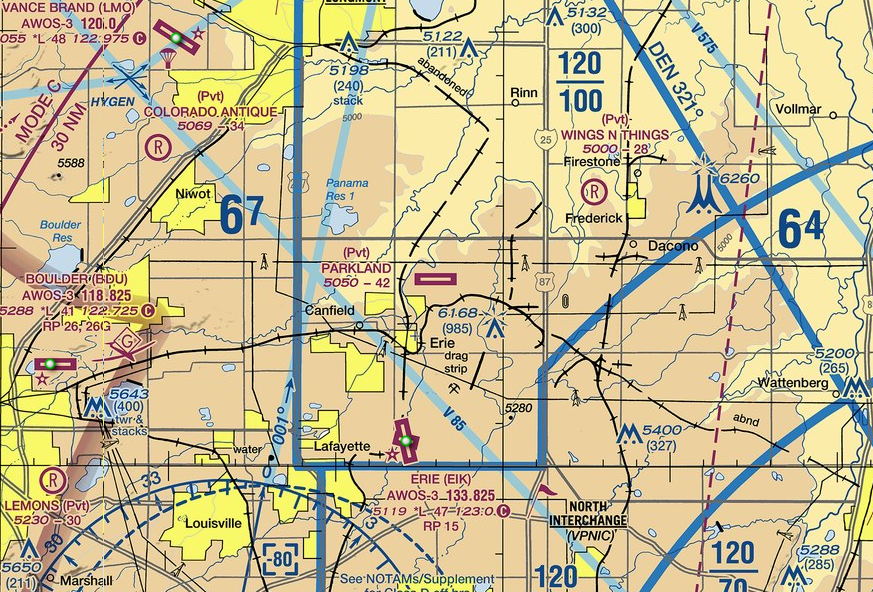 Airport identifier: 7CO0 (Seven Charlie Oscar Zero)
Latitude/longitude: 40-04-17.9440N/105-02-00.9330W
Field elevation: 5050' MSL
Obstacles to navigation: Fence west and north of RWY 8 approach end. Large tree north of approach end of RWY 8.
We are located on the BJC VOR 019R/11 DME, underneath DIA's (Denver International Airport) Class B airspace. The floor of the Class B airspace above us is 10,000′ MSL.
We are within the 30 NM (nautical mile) Mode C ring centered on DIA, which means all aircraft with electrical systems must have an operating transponder with altitude encoding (Mode C).
Our unattended frequency, the common traffic advisory frequency (CTAF) is 122.9.
Main runway (8/26): 4,200' long by 50' wide (3,800' for landing on runway 26 due to displaced landing threshold).
Runway (17/35)/: 1,305' long by 30' wide. Takeoffs to the north are discouraged to the north and prohibited to the south).
Depicted common taxiways: 20' wide; all are paved.
Caution: Drainage ditches run along both sides of the common taxiways.
Private taxiways vary in width and require owner permission to use.
Runway 8/26 is lighted by timer from sunset to 11 PM. The runway lights can be pilot-activated at other times: slowly key your microphone 5 times on the CTAF (122.9).
Make traffic calls to Parkland Traffic.
Left hand pattern for runway 26, right hand pattern for runway 08.
Warning: Beware of the NOAA Tower, (6,165 MSL, 985′ tall) approximately two miles SE of Parkland Estates Airpark.
Visiting aircraft may park where their host recommends. Pilots must provide their own tie downs. Do not block private taxiway entrances to the common taxiways.
During organized fly-ins parking instructions will be provided to arriving aircraft.
Because the pumps operate on private key accounts, 100LL fuel is available only through individual hosts.
Parkland is an uncontrolled airfield and neighborhood. As such there may occasionally be people or animals near the runway. Pilots may consider a low approach (comply with FARs) to ensure that the runway is clear prior to landing.
There are no published instrument procedures for Parkland Estates Airpark.